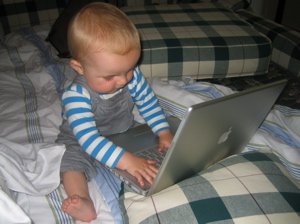 Betatester Sam 9 months playing Babylooba on a Powerbook. See the movie.
Being a baby means going through an huge learning process. Everything has to be learnt from scratch such as motor functions, coordination, social interactions, and brain functions.

Babies and toddlers have used toys since the beginning of humanity. Toys have provided something the babies can touch, feel, become familiar with and look at. As any parent knows Good Toys are also interactive in the sense that the baby can make something happen to them. This can be everything from dropping something from the shopping cart and see the item fall to squeeze a beeping doll and hear it sound. Good toys keep the baby's interest, provide gratification, focus, and excitement which aids the child's development.

The computer can be a formidable baby toy! It is large and nice to the touch, it has an interesting screen where things are moving, and sometimes it makes noises. With the right software the home computer can be transformed into a pedagogic, magic, and extremely interesting Good Toy.